Customer Reviews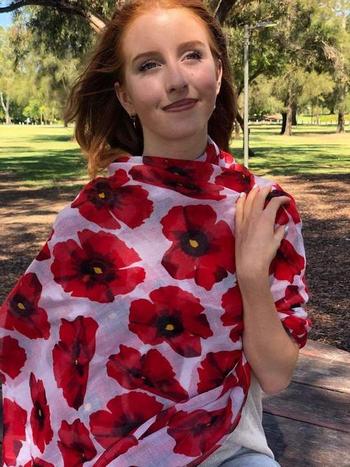 25 Aug 2021
Poppy Scarf
Love this scarf. The fabric quality is amazing! I originally bought the scarf my father's funeral because he was a veteran. I had so many comments about my scarf on the day. It will become a treasured piece in my wardrobe for any day. Thanks for the excellent quick service too because I was worried I wouldn't get it in time
Cheryl

Australia
11 Aug 2022
Excellent Service
The scarf was delivered very quickly and it was of an excellent standard. I love my new scarf and would highly recommend scarves Australia to anyone wanting a beautiful scarf.
12 Apr 2022
Red poppy scarf
Beautiful scarf, getting lovely comments about it
Anne S.

Australia
14 Apr 2022
Scarves Australia
So pretty! Enjoy Anzac Day and beyond!
26 Nov 2021
Beautiful scarf
This is a beautiful scarf and excellent quality. Looks exactly as pictured. Will enjoy wearing for Anzac and Remembrance Day
Marnie L.

Australia
29 Nov 2021
Scarves Australia
Perfect for the occasion! Thanks for shopping with us Marnie
26 Oct 2021
Beautifyl Poppy Scarf
Thank you for the prompt delivery of my beautiful new poppy scarf, I'll be wearing it to a memorial service in November so it is very meaningful to me as a symbol of remembering our veterans. It will go beautifully with my new white dress. Thank you.
Jo

Australia
05 Nov 2021
Scarves Australia
That's fabulous Jo! And what a lovely tribute to the Veterans. Thanks for the feedback!
19 Jul 2021
very nice
Lovely scarf can't wait after this lockdown to wear it.
Annie W.

Australia
01 May 2021
Poopy scarf
Great fast service look like the picture wore it on Anzac Dawn Service
Joanne P.

Australia
02 May 2021
Scarves Australia
That's lovely Joanne. I was looking out for our poppy scarves on the TV all day. Saw a couple, I wonder if it was you
12 Apr 2021
Poppy scarf
Beautiful scarf and very speedy delivery!
Moira M.

Australia
15 Apr 2021
Scarves Australia
Thats great Moira! Good to know it was delivered quickly
07 Apr 2021
Happy Customer
Beautiful scarf with lovely soft feel & light weight, prompt delivery. Very Happy!
Diann L.

Australia