Customer Reviews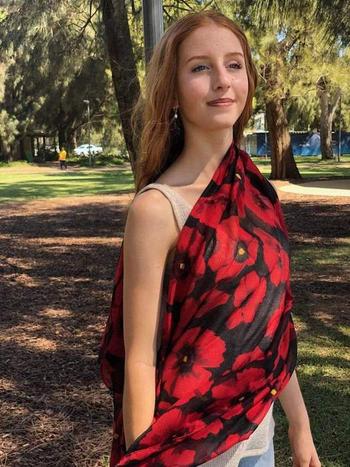 03 Jul 2021
Poppy Scarf
Just like the photo. good quality and large enough to use in many styles. Thank you.
Melinda J.

Australia
04 Jul 2021
Scarves Australia
Glad you were happy Melinda! Thanks for letting us know!
14 Apr 2022
Red poppy scarf on black
I have purchased this scarf to wear on Anzac day. It is absolutely beautiful. The quality is of a high standard and can't wait to wear it. I will certainly be purchasing more scarves from here.
16 Apr 2021
Poppies
Great time to arrive just before ANZAC day but this is a scarf you can wear anytime. Great weight and length
Gail S.

Australia
16 Apr 2021
Scarves Australia
So true Gail, its very bright and cheerful for year round use!